Kurt
Dove
Hometown:
Fairfax, Virginia
Current Residence: Del Rio, Texas

Age: 44

Height: 6' 1"

Weight: 225 lbs

Date of Birth: September 7, 1972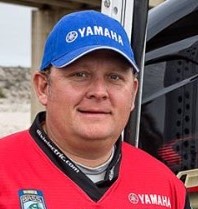 Family:
Rhonda

Dove

(Wife)
Dog: Chips

Education: B.S. George Mason University

Certification: United States Coast Guard Licensed - Captain

When not Fishing: Basketball, Exercise, Golf, Travel, spending time with
Family and Friends.

Years Pro: 15

Career Earnings: $317,150.00

Current World Rank: 169

Favorite Lake: "Lake Amistad" - Catch 'em every day nearly anyway you want!

Least Favorite Lake: "None I've been to yet - I like the challenge of them all."

Favorite Technique: Topwater!

Fishing Strength: Working plastics in heavy vegetation.

Fishing Weakness: "I can't get enough of it!"

Favorite Food: Buffalo Wings (Mild)

Favorite Music: "I listen to it all; County, Rock, Rap -whatever."